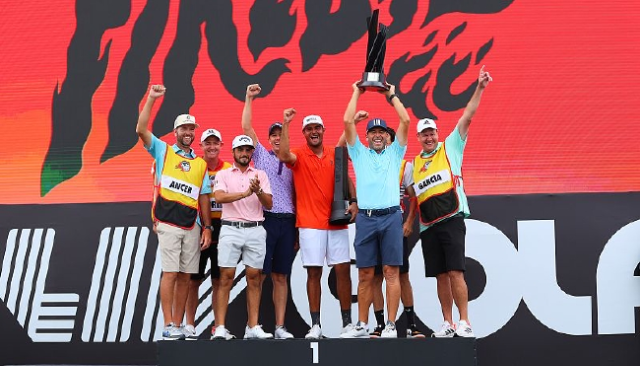 Chacarra, 22, won the LIV Golf Invitational Series Bangkok event Sunday at Stonehill for his first professional victory in just his fifth start.
The final round of the LIV Bangkok Invitational came to a close at Stonehill Golf Club in northern Bangkok, Thailand on October 9. 22-year-old Eugenio Lopez-Chacarra of Spain posted a 69 to finish with a -19 total and a three-shot advantage over Patrick Reed to win his first title since turning pro in June, as well as the $4 million individual tournament championship.
  Reed posted a 67 in the final round and closed in on Chakara at one point in the tournament, but was unable to shake the latter's lead. Paul Casey, Richard Bland and Kim Si-hwan finished in a tie for third place at -15.
  The winner, Chakala, previously attended Oklahoma State University in the United States and was once ranked second in the amateur world. He is said to have signed a three-year deal with the LIV Golf Invitational and turned professional immediately thereafter.
  Chacarra made two consecutive bogeys on holes 4 and 5 in the final round, but that was his total for the week. He then made no more mistakes, making five birdies in the final round.
  "I thought I played great and hit the ball well all week. I only had two bogeys this week and my goal was zero bogeys," said Chacarra, "The course was in great shape to shoot low and my birdie total far exceeded my bogey count and that's how I won the title." Chacarra made 19 birdies in three days, in addition to an eagle.